Where to go in Prague
My husband is Czech and I have been lucky enough to experience Prague many times. I have written up his notes on what to eat, drink and see when you visit this beautiful medieval city of Prague, with all its spires, statues and art nouveau architecture.
Charles Bridge – Karlův most
A very iconic medieval stone bridge with statues.
Prague castle – Pražský Hrad
The location of the crown jewels, religious relics, art treasures, historical documents and the seat of the government.
Petřín
This is a big park with a lookout tower in the middle of it. It's not far from Prague Castle and provides amazing views over the city. Fun fact, the top of the lookout tower is the same altitude above the sea level as Eiffel tower.
Old-town square – Staroměstské náměstí
Prague Astronomical Clock – be there on the strike of the hour to see the mechanical clockwork in action.
Alfons Mucha museum – see the work of the world-acclaimed Czech art nouveau artist.
The old town – just get lost in the medieval streets, it's very atmospheric around there. If you're lucky, you might stumble upon the Old Jewish Cemetery, where the oldest preserved tomb stone is from 1437.
Wenceslas square – Václavské náměstí
Much of Czech history was written here.
Half-way down the square going from the Horse, there is Vodičkova street, after about 20 m there is an entrance to Světozor passage – go there for the best bowl of ice-cream with large variety of toppings. I recommend griliáš and cream topping with a liquor of your choice. Further down the passage you find an entrance to the garden of the St. Francis' order (Františkánská zahrada)
Náplavka (the river embankment near the National theatre)
A vibey hangout – go there for a beer on one of the moored boats.
Vyšehrad
The original Prague settlement, remains of the very early medieval history of our nation can be found here. There's a cemetery with all the important historical figures buried there. Also a nice park to walk in with beautiful views of the river Vltava.
The Good Ladies of Prague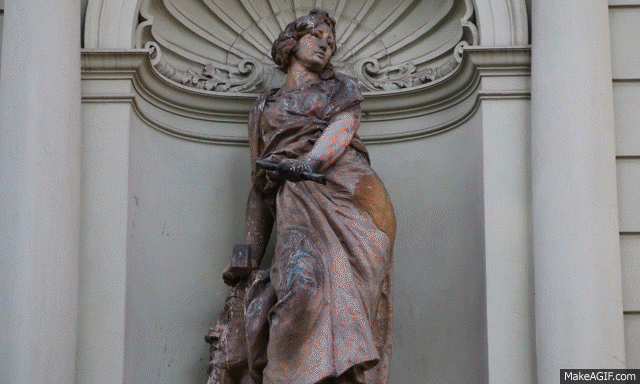 When you're out and about make sure to look up at all the sculptural ladies that stand on top, grace the facades and fit into the niches of the old buildings.
What to eat in Prague
Food-wise you gotta try some of these:
Hovězí svíčková s houskovými knedlíky – roast beef with a root vegetable creamy sauce and bread based dumplings.
Pečená kachna se zelím a bramborovým knedlíkem – roast duck with sauerkraut and potato dumplings.
Kynuté knedlíky s jahodami/borůvkami/švestkami s tvarohem – Doughy dumpling filled with seasonal fruits – strawberries/blueberries/plums with quark cheese with sugar and melted butter on top – yes that's right we do deserts as main courses and we are not ashamed of that!
Bramboráky plněný masovou směsí – potato pancake filled with meat and veggie mix.
Chlebicky – open face sandwiches.
Smoked sausage, slice of brown caraway seed bread and raw grated horse radish.
Smoked fish.
Cukrový – little biscuits eaten at Christmas.
Poppy seed cakes.
What to drink in Prague
Czech beer – Kozel, Konrad, Bernard, Pilsner Urquell, Budvar and Staropramen. Half dark (and half light) is a popular drink called Řezaný.
Fernet – if you like herby bitter liqueurs.
Slivovitz – also known as condensed summer, it is a spirit distilled from fruits, usually plums. The best stuff comes in plastic bottles.
Turkish coffee – has nothing to do with Turkey but it's strong.
Kofola – the principle rival of coca-cola in Czech
Flavoured bottled water